Opportunities
27 July 2021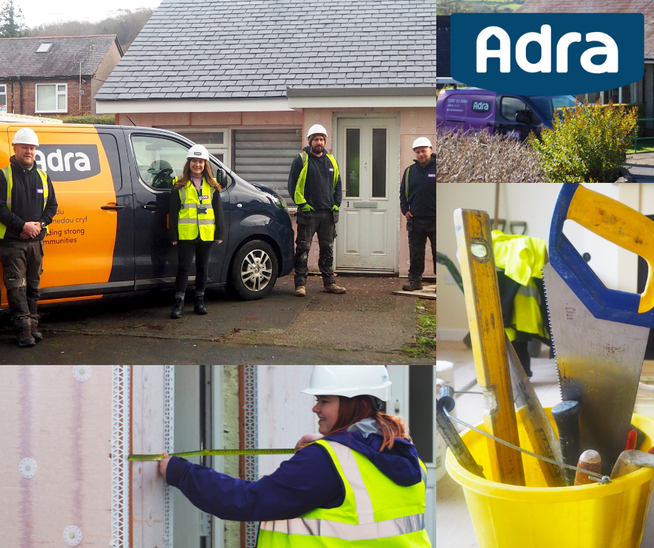 We have created a new course in maintenance and construction, specifically for our customers and tenants. We have 12 spaces available on this free course.
We have been working closely with our partners, Busnes @ Llandrillo Menai's Centre for Infrastructure, Skills & Technology and Procure Plus to provide more opportunities for our tenants gain more skills and new qualifications.
The aim is for individuals who are our tenants to gain work experience, skills and qualifications to give them an opportunity to get on the employment ladder in maintenance and construction.
Up to 12 people can take advantage of the two courses available in Repairs & Maintenance or General Contracting, free of charge.  
The contractors taking part in this scheme are Wynne Construction, G H James, GMC a Williams Homes.
The requirements to be considered to go on the course are the following:
being a tenant of Adra, or living in one of our homes

over 16 years of age

not already working in a construction job

be committed to travel to attend the training in Llangefni and work experience on our sites. We will try to arrange a work experience placement as close to home as is practically possible.
To register their interest for the course, tenants should contact Charlotte from Adra's Community Involvement Team on 0300 123 8084 or cymunedol@adra.co.uk by Friday, 13 August at the latest. We will be offering a place on the course on a first come, first served basis.
More information:
We have tailored 2 different courses for you: 
Course Title

 

Maintenance Course

 

General Contracting Course

 

Course content and qualifications gained

 

Health and Safety Awareness (CITB SSP) 

 

Asbestos Awareness 

 

Cut off saw (abrasive wheels) (NOCN)

 

Manual handling

 

Work @ height and harness Awareness – (NOCN)

 

Environmental Awareness (IOSH)

 

PASMA Mobile Towers (PASMA)

 

 

Health and Safety Awareness (CITB SSP) – 

 

Asbestos Awareness (IOSH/IATP)

 

Signing, lighting, and guarding) – (NOCN Streetworks)

 

Vehicle Marshalling (NOCN)

 

Cut off saw (abrasive wheels) (NOCN)

 

Work at height awareness –(NOCN)

 

Environmental Awareness (IOSH)

 

When?

 

Week 1

 23/08/21- 27/08/21

 

Week 2 31/08/21- 03/09/21  

Week 1

 16/08/21- 20/08/21

 

Week 2 23/08/21- 27/08/21 

Location

 

Week 1

 Grŵp Llandrillo Menai Campus, Llangefni

 

Week 2 With Tim Trwsio on one of Adra's estates 

Week 1

 Grŵp Llandrillo Menai Campus, Llangefni

 

Week 2 With a contractor on Adra worksite